This was my second time of trying to draw with hands and feet. This video is the first part; the beginning stage of the project The Woman King.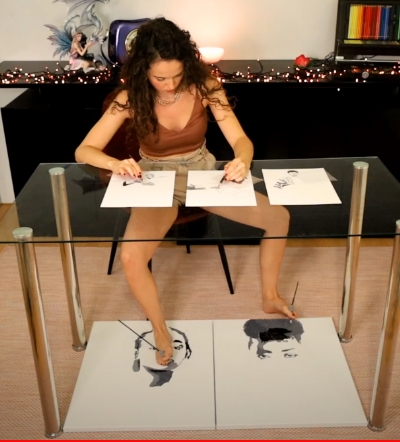 As you can see it's a very slow process in real time but this way you can see the slow painting process a bit better. Maybe I will do a tutorial in the future, but this way you can see better how much work goes into a project like this.
It's not only drawing; but half of the time I'm mixing paint, cleaning brushes after 5 – 10 minutes, thinking, looking if my cameras are still recording and turning them on and off, cleaning the paper or canvasses or floor, adjusting the brushes to my feet, sharpening pencils and having tiny drawing breaks.
I'm easily bored and it's a bit hard for me to sit still for a long period of time and just draw and only focus on one thing, so this a very fun way to make art for me.
I love the challenge and that I'm constantly busy and that I can see some improvement with my feet and I'm learning something totally new. It's a very interesting experiment. It's like a yoga practice sometimes.
Drawing like this takes me many hours to complete but normally in the past when I would work on just one drawing with one hand I sometimes could work on 1 portrait for more than 40 hours. When you draw realistic, even working on 1 portrait, patience is always important if you want a realistic result.
In this video I have the feeling I draw a bit better with my feet than the attempt before this, (or at least with more confidence) than with the 6 portraits.
I also experienced more control on the movement on my feet than the first try. It's a very fun challenge! I think the hardest part is beginning a new project so I always start of a bit slow because I have to think about so many things at the same time. After that I'm slowly building up more layers and details as I'm further in the process to get a (hopefully) realistic result.
I'm sorry to bore you with such a long video but maybe some people are interested in seeing this in real time.
Now looking back I just see I made the mistake in the beginning to use small brushes on big areas, a bit a waste of time, luckily I learned from it and now I use normal size brushes, I also never painted portraits before even with my hands so this alone was a learning process for me.