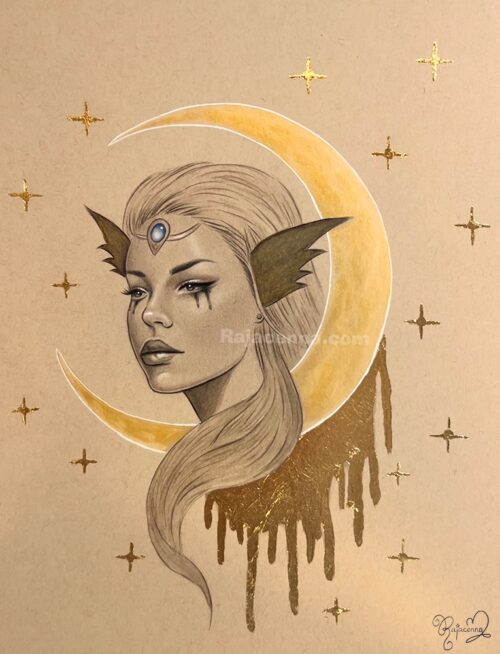 With this new drawing and in the video, I'll be sharing my first attempt at using gold leaf.
The addition of gold leaf at the end of the drawing adds a unique touch and in my new video I'll take you through my very first experience with this, for me, artistic experiment.
Gold leaf is incredibly thin and delicate so I really had to get used to it. Trying new things is part of experimenting as an artist and I hope to use it in future artworks as well.
One of the things I learned while working with golf leaf is using the right amount of adhesive, too much or too little can affect the final result. So that's a challenge.
You also need a bit of patience, (which might be even the hardest part for me haha), allowing the adhesive to set for around 15 minutes before applying the gold leaf. And then after 30 minutes I brushed it away, I'm not sure if you have to wait that long but I wanted to make sure that the adhesive would work.
In creating the portrayal of the woman in the sketch, my primary aim was to blend an air of mystique. My intention was to have a balance between emotions and a sense of fierceness in her face. I wanted to transmit that her experiences have been challenging and she's been through a lot, but through time has given her more strength.
The presence of the serene blue diamond gracing her forehead symbolizes a state of tranquility and inner calm. The moon is created of golden acrylics. To me, gold represents something of significant value. In this sketch, my aim was to depict the woman's true value, which lies in the wisdom she acquired through overcoming challenges. So the tears I draw turn into gold, meaning that the difficult times turn into wisdom.
The sketch is just a quick creative outlet for me. A way to relax and express myself during those brief moments between projects or in the quiet hours of the night.
It allows me to gain more inspiration that might later evolve into more complex works.
The Golden Muse is now for sale in my Art Store: https://rajacenna.nl/?product=the-golden-muse-original