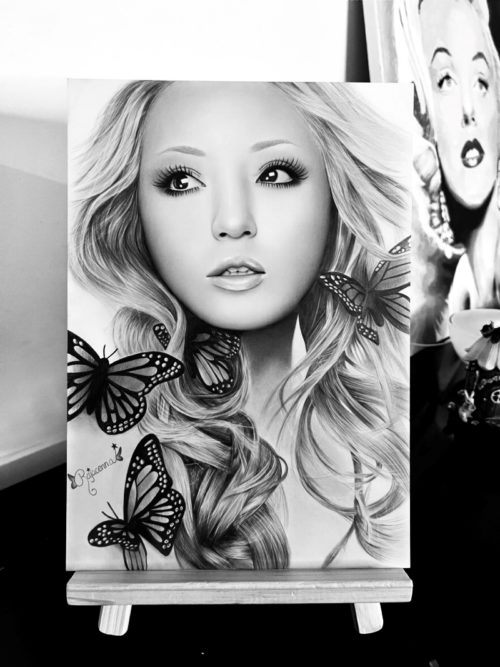 This week Rajacenna has done an interview for TBS Tokyo for the TV-show 'World Limit Mystery' and therefore thought this might be a nice moment to do a throwback with this old drawing of the famous Japanese artist Ayumi Hamasaki.
With this black and white drawing which Rajacenna created at age 16 (2010), her career started.
This drawing was published in the art book: 'Amazing Pencil Portraits 2' and from then on she gained publicity by media in her own country (The Netherlands) and abroad.
She initially created with one hand only and the years after that she continuously pushed the boundaries of her artistic capabilities.
Her passion for art, combined with resilience and determination, has allowed her to overcome limitations and embrace a world of endless possibilities.
From a single-handed creation to the mastery of self instructed various techniques, her story serves as a testament that human spirit's are capable of more.
As you take a closer look at the picture, you'll notice Marilyn Monroe gracing in the background. This recent creation, along with seven other artworks, is the result of new methods Rajacenna taught herself versus her early days of single-handed artistry. With newfound abilities, She now has utilized both her hands and feet to bring other pieces to life.
It serves as a reminder that limitations are merely stepping stones to overcome, and true creativity knows no bounds.
She hopes to inspire others to embark on their own artistic adventures, to believe in the limitless power of creativity, and to embrace the beauty that lies within their own unique journey.