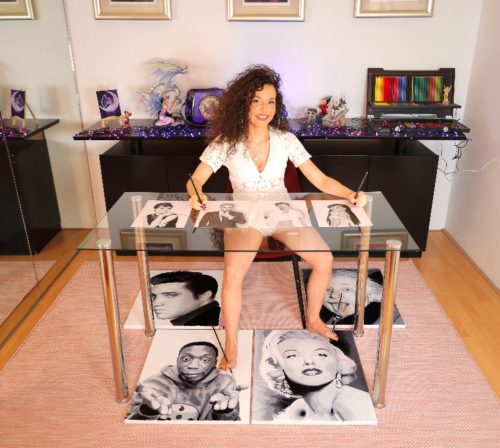 Rajacenna has now created simultaneously 8 realistic drawings and paintings with both feet and hands upside down.
While she coordinates multiple limbs at the same time, she manages to create realistic portraits of 8 celebrities; Elvis, Marilyn Monroe, Einstein, Zendaya, Justin Bieber, Harry Styles, Audrey Hepburn and TikTok phenomenon Khaby Lame.

With 155 million followers, the latter is the worldwide number 1 TikToker and after Rajacenna's new TikTok video reached 4 million views in 24 hours, he made an Instagram story about her.
4 drawings and 4 paintings with both hands and feet simultaneous is the runner- up project on her previous global viral four-limb drawing video which has been viewed on social media over 100 million times and where she created 6 artworks at the same time.