march 2011 – Justin Bieber: 'Rajacenna's talent is amazing'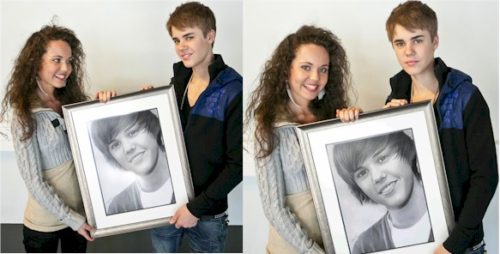 Sunday, March 27 teen idol Justin Bieber received prior to his concert in Ahoy, the realistic pencil drawing Rajacenna made of him.
Enthusiastically Justin Bieber received the pencil drawing, which one year ago Rajacenna yielded worldwide recognition. "Did you drew that?" He asked in astonishment, "that's amazing!", Said Justin in disbelief and very impressed. "How long did it take you to draw it?" He asked interested, which Rajacenna replied that she was about four or five hours had been doing. Justin felt very honored that he was so realistically put down on paper and would like the drawing to take home. Even the bodyguards were very impressed and confirmed that they would personally ensure that the framed picture in perfect condition will reach the house of Justin.
The record company of Justin Bieber, Universal Music, last year contacted Rajacenna. They saw a youtube video on the television in which Rajacenna shows the realization of the drawing of Justin Bieber. They asked her permission to receive a hard copy of the portrait of Justin Bieber for their office to hang on the wall, between the portraits of many artists contracted.