april 2011 – ELITE EXHIBITION AT THE MAILBOX OUTSTRIPS LONDON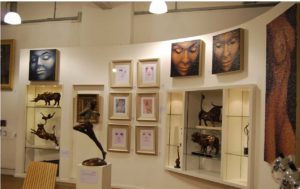 The Birmingham Mailbox has beat off several London contenders to host one of the most exclusive mixed exhibitions outside of the capital.
Kudos Fine Arts have selected the Mailbox to host an exhibition featuring exclusive local artists amongst their international stable. The invitation only private view will take place at the Birmingham Mailbox on 15 April 2011, with the exhibition open to the general public from 16 April 2011 to 2 May 2011.
Works by local artists will include micro sculptor, Willard Wigan MBE, SoulScape artist, Louis Parsons, precision artist, Sue Rowe and the undisputed aerosol graffiti king, Temper. On display for the first time in Birmingham will be several pieces from Temper's greatly acclaimed Post Graphaelite Collection, launched at the prestigious Banqueting House, Whitehall, London. This is without doubt the graffiti genius' biggest and best ever collection.
The exhibition will also see the launch of pencil and portrait artist, Joanna Ladowska, who now having settled in the UK from her Polish homeland has acquired an exceptional following since winning the People's Choice Artist Award for 2011.
'The breadth and body of works that will be on exhibition is exceptional. There will be paintings and sculptures to suit all tastes. In addition to the exceptional local artists, there will be a selection of works from prized international artists such as Tony Evans, Len Gifford and the late Robert Lenkowiez, each leaders in their own field', says Kudos Director, Steve Turner.
Since conception in early 2010, the Kudos team has amassed a very high calibre client and celebrity client base. With exhibitions already undertaken at prestigious venues including Harvey Nichols, (Knightsbridge) Selfridges, (London) Hammerson, (Mayfair) America, Germany and Scandinavia, Kudos concentrates on a select number of artists creating a brand identity for each artist, then profiling their work in all media for optimum exposure, linking brand identity.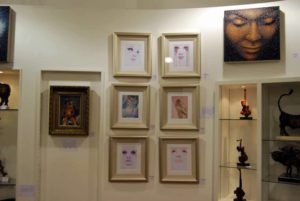 Through their exceptional media contact network, the Kudos team have secured over 90 television shows and appearances for their artists across the globe. Turner comments, 'One need only look at the work of the child cubist artist, Hamad al Humaidhian. After coverage in the Times, The Guardian, The FT and television appearances in the Middle East, Australia and of course the UK, Hamad's profile has been raised considerably. The same is true for the young Dutch photo realist artist, Rajacenna, whose work has been taken up by even young celebrities like Justin Bieber.' 
Also on exhibition will be the world's most expensive shoes. An all gold shoe, fully encrusted in diamonds. 'Together with a fully diamond encrusted matching handbag, this is where art really does meet fashion – an every woman's must have', says designer, Christopher Shellis.
To host so many exceptional world class artists under one roof at the same time is seen as a coup for the Mailbox. This is a must see exhibition for all art enthusiasts and collectors.