Creating 4 photorealistic drawings at the same time with 2 hands and also upside down is the current challenge that hyper realistic ambidextrous Rajacenna imposed on herself this year.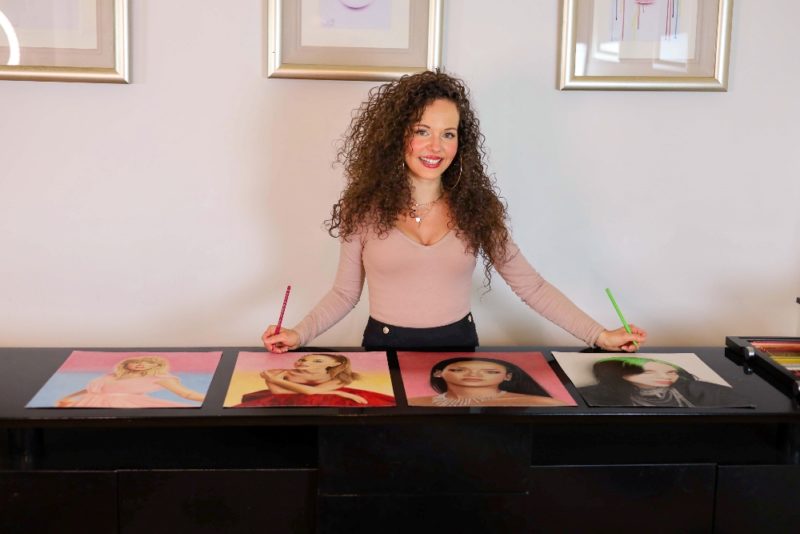 Recently ambidextrous hyper-photo-realistic drawing phenomenon Rajacenna has been in the news worldwide by creating 2 different photo-realistic drawings with 2 hands at the same time. Now she doubled it and created 4 photo realistic portraits of Billie Eilish, Taylor Swift, Ariana Grande en Rhianna in 1 drawing session.

EEG
An EEG scan analyses by  neurotherapist and world's leading EEG biofeedback expert Bill Scott; indicated that during drawing there is startling visible brain activity to be registered in Rajacenna's brain.

These measurements, Rajacenna's brain showed:
• an Einstein brain signature
• the highest brain peak performance ever measured
• that it is for the most part sleeping during drawing simultaneously at the highest level

Rajacenna is an "extraordinary human being; she has a very exceptional brain": is the conclusion of Bill Scott and several brain experts. "I have never seen this before in anyone's brain."

Book
About these unique findings and how to get the maximum out of your brain, a special book will be released; written by Rajacenna with cooperation of some neuro experts.
Rajacenna says people are capable of much more than they think they can.

Also Rajacenna will be introducing her first exclusive NFT drop on the Ethereum Polygron blockchain in the near future.
A RAJACENNA NFT directly becomes a digital ID into a 'Super Human' zone where the art of 'impossible' stands central. This will also be access to master classes, private coaching, games and a free book.